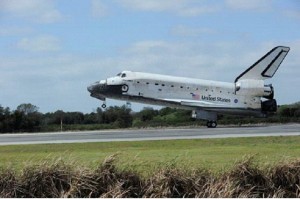 Space shuttle Discovery touched down on Runway 15 at KSC's Shuttle Landing Facility (SLF) just before noon today, completing the 13-day STS-133 mission to the International Space Station. Main gear touchdown was at 11:57:17 a.m., followed by nose gear touchdown at 11:57:28, and wheelstop at 11:58:14 a.m.
Commander Steve Lindsey, Pilot Eric Boe, and Mission Specialists Nicole Stott, Michael Barratt, Alvin Drew and Steve Bowen delivered the Permanent Multipurpose Module, packed with supplies and critical spare parts, as well as Robonaut 2, the dexterous humanoid astronaut helper, to the orbiting outpost.
STS-133 was the 39th and final flight for Discovery, which has spent 365 days in space, orbited Earth 5,830 times and traveled 148,221,675 miles.